Online marketing specialisten in Zuid-Holland. Merlyn Commerce is een onderdeel van de Merlyn Group waartoe ook Merlyn Consult en Merlyn Recruitment B.V. behoren. Op dit moment werken wij vanuit Zwijndrecht aan uiteenlopende WordPress, Joomla, Drupal en andere online marketing projecten. Kijk a.u.b. hier naar onze expertise
Met veel ervaring in online marketing, websites en intranet portals ondersteunen wij e-commerce projecten vanaf de conceptfase tot de optimalisatie op lange termijn.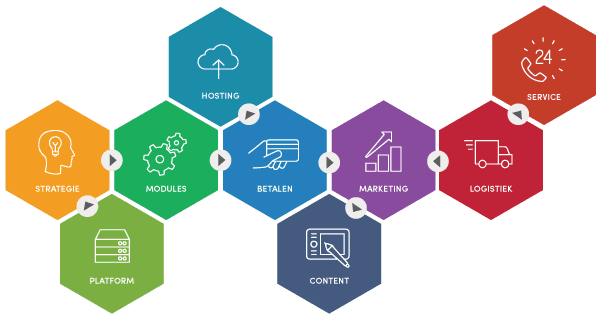 Of u nu een klein schildersbedrijf bent, een middelgrote handelsfirma of een wat grotere IT company, altijd hebben wij oplossingen die aansluiten op uw zakelijke behoeften. Merlyn Commerce kan u de weg wijzen en voor u meer omzet genereren. Zo kunnen wij uw social media marketing en SEO, Google Ads naar een hoger niveau tillen maar ook webontwerp oplossingen ontwikkelen die uzelf dikwijls niet zelf intern kunt creëren.
De bekendste Web Content Management Systemen.
Een vergelijking van het aantal webpagina's

Onze websites zijn snel, stabiel en creatief.
Volledig geïntegreerd met uw Online Marketing strategie.
Wij werken graag samen met onze klanten.

Door het verbinden van bewezen oplossingen, slimme tools en strategische partners realiseren wij een voorsprong in e-commerce. En hierdoor zijn onze websites- en shops sneller, stabiel en krachtig. Onze formule is eCommerce 360. De persoonlijke aanpak van Merlyn Commerce is kenmerkend en onderscheidt ons van vele andere e-commerce bureaus. Enerzijds benaderen wij uw organisatie als team en anderzijds begeleiden wij u op een kwalitatieve en service gedreven manier door de wereld van e-commerce.
Graag werken wij samen met partners en kunnen u daarom gevarieerde oplossingen bieden. Hierdoor krijgt enerzijds uw marketing een boost en anderzijds krijgt uw organisatie meer mogelijkheid harder te groeien. Wat denkt u? Dat gaan uw klanten merken!